The number of short-story collections about St. Louis is embarrassingly small; offhand, we can only think of two:
The Middle of the Night
by Daniel Stolar, out in 2004, and now
Joe's Black T-Shirt
by Joe Schwartz, out last month.
Schwartz works full-time in the film department of the
St. Louis Public Library
.
Joe's Black T-Shirt
is his first book, composed over the course of four months between the hours of four and six in the morning.
In an introductory author's letter, Schwartz writes: "These stories are not about people with choices as much as they are about people learning to live with the consequences of actions....All these short stories are set in St. Louis, a place that I have loved, hated, reviled, and embraced. In short, it is my home."
Most of the stories take place in what could be called the "gritty underbelly" of St. Louis, concerned with cops, lawyers and ex-cons. "The stories are pure fiction," Schwartz says. "I look around the world and ask, 'What if?' and then jump to conclusions. Once I figure out how it all ended, I write till the end. I very rarely stop."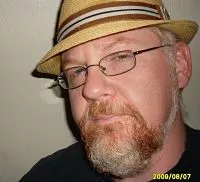 Schwartz's own favorite story in the collection is "Father's Day", about a man who attends the funeral of the father he hasn't seen since he was eight years old.
"I don't know where my father went when my parents got divorced," Schwartz says. "The father in the story leaves a letter at the end. It was immensely healing to myself to write it. There are a lot of guys my age -- I just turned 39 -- who didn't have fathers growing up and we'd like our absentee fathers to write to us and say they're sorry and it's OK."
He's currently at work on a novel about a woman who sells medical marijuana in the St. Louis suburbs.
Schwartz published
Joe's Black T-Shirt
through
Lulu
, a self-publisher. (Which, unfortunately, doesn't seem to invest too heavily in copy-editing.) The book is available on Lulu's site as a paperback or eBook for $11.56. Schwartz also plans to sell copies at author appearances; he's scheduled to be at the
Strange Folk Festival
in O'Fallon, Illinois, on September 26.
So far, he's sold about 50 copies of
Joe's Black T-Shirt
. His best customer has been his employer, which purchased 17 copies. Schwartz has been sneaking peeks at its lending status on the library's computer. Although the book hasn't come in yet, he says there are eleven people on the waiting list.
For a preview of Schwartz's work, tune into KDHX at 11 a.m. Monday, when Schwartz will read his story "Ademption" on the program
Mystery Train
.
The story characterizes this publication thus:
Daniel worked for The Riverfront Times, a weekly rag supported mainly by advertisements for strip clubs and bars that were handed out free to the public. Occasionally it broke a real news story....

"So what," Daniel said as he let out a smelly belch. "I spend most of my day going over copy written by amateurs that wouldn't be taken seriously by a comic book publishers."

Thanks, Joe.