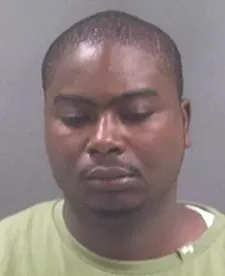 St. Louis police are asking the public for assistance in trying to track down
D'Angelo Tate
.
Police describe Tate as a "person of interest" in the
brutal slaying of Shevette Chambers
on August 16 outside the popular Eat Rite Diner near Busch Stadium.
This is not the first time Tate has been suspected of playing a role in a homicide.
Last September, Tate was arrested on suspicion of killing 40-year-old
Mark Murphy
who was gunned down in May 2008 after getting into a
fight in a north St. Louis tavern
. Tate was released on bond last December. That bond was then revoked August 18 -- two days after Chamber's murder.
Anyone with information on Tate is urged to contact CrimeStoppers at 1-866-371-TIPS. Callers can remain anonymous.