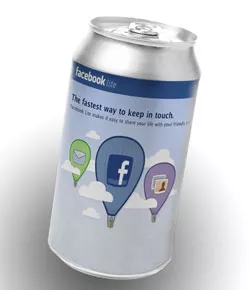 Photo illustration by Bill Streeter
Facebook Lite! Tastes Great with Less Spam!
Facebook
launched their
"Lite"
version in India and the U.S. yesterday. The Facebook Lite is basically Facebook stripped down to just the status updates and comments.
What a brilliant and original idea! I was wondering when someone was going to launch a service based on status updates. It would be cool if they were just limited to 140 characters too ... wait a minute ...
Yeah the obvious comparison is
Twitter
, but Facebook Lite reminds me more of
Pownce
, the Twitter also-ran service that was launched by a team lead by
Digg
founder
Kevin Rose
and later purchased and killed by Six Apart last year.
The thing that Pownce did that the new Facebook Lite also does is allow you to share photos and videos as well as leave comments on items.
But the reason for the low-calorie version of Facebook isn't to compete with Twitter (though don't think that Facebook doesn't compete with Twitter). No, the purpose of Facebook Lite is much bigger than that, namely
WORLD DOMINATION
.
Seriously. Facebook launched this version to allow the service to be used in poorer countries where bandwidth is slower and access to fast, modern computers is limited. If you are using Facebook on a newer computer with a fast Internet connection, you might not notice that it's kind of a resource pig. That's why India was the other country that Facebook Lite has launched in so far.
Curiously, this has been a fairly quiet launch. Facebook hasn't even mentioned it on the official Facebook blog yet. But if you find the regular version of Facebook to be annoying with all the quizzes, apps, etc. you might like this version. All that crap is stripped out. Come to think of it, this might end up being the most popular version of Facebook yet.
Take it for a test drive at
lite.facebook.com