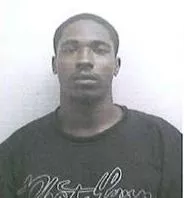 staging.ksdk.com
Tajuan Lampkin
Tajuan Lampkin
was sentenced to 28 years in prison yesterday for breaking into the home of 75-year-old woman in Belleville, stealing $20 and forcing her to trim her nails to get rid of evidence.
Lampkin, 22, is a serial marauder charged with forcing his way into the homes of at least four Belleville women in the past five years.
As the
Belleville News-Democrat
reports today, police accused Lampkin of breaking into a home in 2004, beating the female occupant with a cord and then raping her at knifepoint. A week later, Lampkin was charged with breaking into the home of another Belleville woman, tying her up and stealing a gun and credit cards.
The rape and assault charges from those incidents were later dropped when Lampkin pleaded guilty to the lesser crime of home invasion. He was sentenced in 2006 to six years in prison but in 2008 was out of jail and continuing his home invasions.
The New-Democrat reports that on October 9 of last year, Lampkin forced his way into the home of the 75-year-old woman from whom he stole two $10 bills and demanded that she clip her fingernails.
Three days later, Lampkin allegedly broke into the home of yet another Belleville woman and demanded her wedding band at knifepoint.
Yesterday, a St. Clair County judge sentenced Lampkin to 28 years in prison for the latest charges. He could be eligible for parole in 14 years' time -- 2023.
In a statement to the court, the woman forced to trim her nails by Lampkin wrote:
"The sentencing hearing will be the legal end for me, I would imagine. That will not be the end of the memories and the sickening feeling that my life could have ended (that night)."