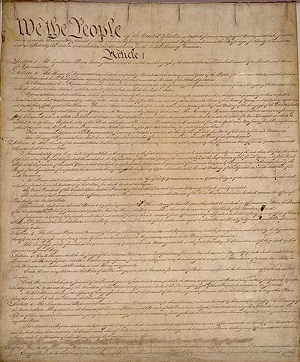 Two weeks ago, on August 28, the state of Missouri enacted legislation that bars public access to all divorce court records that were on file before that date.
Here's the official wording:
452.430.
Any pleadings, other than the interlocutory or final judgment, in a dissolution of marriage or legal separation filed prior to August 28, 2009, shall be subject to inspection only by the parties or an attorney of record or upon order of the court for good cause shown, or by the family support division within the department of social services when services are being provided under section 454.400, RSMo. The clerk shall redact the Social Security number from any judgment or pleading before releasing the interlocutory or final judgment to the public.
The provision is a teensy part of a big ol' judiciary bill that you can
read here
in its entirety.... Hey, buddy!... Yeah, you! Wake up!
Sorry about that -- thought you'd fallen asleep there. Understandable, really. Why should you give a fat fig about what the state does with divorce court files?
Let's ask Jean Maneke, a First Amendment attorney in Kansas City who's also the go-to counsel for the Missouri Press Association.
Take it away, Jean!

"The new law is indeed quite a blow for the public, and especially for genealogy researchers. It is obviously prompted by legislators' concerns that court files contain social security and bank account numbers, in that filings made after August 28 are prohibited from containing such information. It's just an example of how government's desire for more information about us ends up creating more problems for them."
Why can't the courts just delete that information from files if the records are requested?

"The legislature could have imposed the duty on clerks to redact such information, but sometimes divorce files are huge. And there are, in fact, many requests for files on a daily basis, so of course court personnel argue that this would be onerous. Fighting that battle would have been extremely difficult."
So, where does that leave us?

"I understand the reason for the new law, but I'm not happy one bit about any law that closed important public records to the public. I realize final judgments will be open, but there will be genealogy researchers who will find this law a problem in the future, as well as others who rely on access to court records. Plus, any law like this creates a dangerous precedent for the public interest in openness in government."