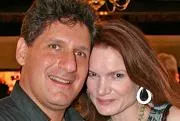 Courtesy Rachelle L'Ecuyer
You go, Ra-Joe!
Most press releases
Daily RFT
receives are stupefyingly
boring
. But those of
Rachelle L'Ecuyer
read so peppy we've come to think of
Maplewood's Community Development Director
as the town's Official Cheerleader. (She prefers "cruise director.")
Sometimes L'Ecuyer does get a little...out there. Remember her
open letter to George Clooney?
So maybe it wasn't so surprising to find out that L'Ecuyer wants 700 to 800 of her closest e-buddies to help her come up with a new name. Yesterday she fired off an e-mail that began:
"Over the Labor Day weekend, while you were probably busy with the grill, I got married to
Skip Joseph
(AKA Harold Jerome Joseph, Jr.) Now, all kinds of people are asking me what my new name is going to be. What do you think?"
L'Ecuyer provided six choices:
1. Keep my name:
Rachelle L'Ecuyer
(pronounced Ra shel Le kwee ay)
2. Change my name to
Rachelle L'Ecuyer Joseph
3. Change my name to
Rachelle Joseph and go by Mrs. Harold J. Joseph
4. We combine our names and our last names become:
LeJosepher
(pronouced Le Joe Se Fay)
5. Skip changes his name to:
Harold Jerome L'Ecuyer Joseph

6. I just go by
Ra-Jo
!
A couple weeks ago, L'Ecuyer says, her fiance asked her if she'd change her name when they married. L'Ecuyer wasn't so keen on dropping her French moniker, a mouthful though it may be, especially when she learned her soon-to-be-hubby didn't want to change
his
name. But, she says, she was willing to find some kind of compromise.
"I started making up names, thinking, why don't we combine them. So I put the list together. And I was actually going to email it to him and then I decided, Well, I'll just make this my email blast!"
Alrighty then!
L'Ecuyer reckoned she'd had about a 6 percent response rate by day's end yesterday -- which is a helluva lot better than her usual e-blast.
Most people voted for option #1, with the best argument coming from a local writer who kept her maiden name. "She said she'd been married for 38 years, and it's much more fun to check into hotels when you have two last names."
Have a suggestion for L'Ecuyer? Feel free to leave it.