Following a speech yesterday billed as an effort to
brainwash the youth of this nation
, but turned out to be nothing more than a
harmless pep talk
(
how shocking!
), President
Barack Obama
took time to answer questions from high school students in Arlington, Virginia.
One of those questions came from a student (viewable at the 1:40 mark in the YouTube clip below) who wanted Obama's advice on how to become president of the U.S.
Obama's answer:
"Let me give you some very practical tips. First of all, I want everybody here to be careful about what you post on Facebook, because in the Youtube age, whatever you do, it will be pulled up again later somewhere in your life. And when you're young, you know you make mistakes an you do some stupid stuff, and I've been hearing a lot about young people who are posting stuff on Facebook and then they go to apply for a job and somebody's done a search... And that's some practical political advice right there."

Hmm...you don't think Obama was referring to his friend
Van Jones
, do you? Jones, the president's so called "Green Jobs Czar," resigned his position in the late hours of Saturday night in part because years ago
he signed a conspiracy theory-like online petition
suggesting that the U.S. government played a role in 9-11.
In actuality, the president could have used a few different examples to illustrate his point. Here are three other folks connected to Obama who've been burned by the ghosts of the Internets.
1. Young speechwriter Jon Favreau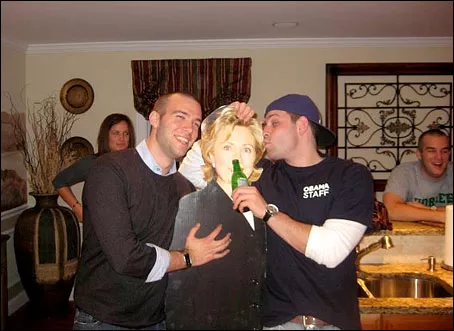 via Washington Post
Remember this photo of Jon Favreau (left)?
Studly speechwriter Jon Favreau had this photo pop up during the vetting process back in December. That's a cardboard cut-out of now Secretary of State Hillary Clinton, a rival of Obama's during the primaries. The photos appeared on
Favreau's Facebook page
.
2. Rev. Jeremiah Wright
The controversy surrounding the sermons of Obama's now-former pastor -- first reported by
ABC News
-- received thousands of views on YouTube.
3. Supreme Court Justice Sonia Sotomayor
Right-wing bloggers and pundits had a field day with a comment (born-again online) in which newest Supreme Court Justice suggested back in 2001 that Latina women made for better judges than white men.