flickr.com/photos/lola_um
Soon to become (even more) obsolete?
Oh, brave new world, with your 24-hour Internet access and ubiquitous empty wallets and red-soaked ledgers! You have encroached even upon the rarified campus of Washington University -- yes, even that country club where students can
pre-order their cafeteria lunches
to spare themselves the inconvenience of waiting in line.
Sadly, Wash. U.'s biology and math students will no longer be able to eat those pre-ordered lunches within the happy confines of their own departmental libraries,
reports
Student Life
, the university's student newspaper.
Not that many students were using them anyway. But it says something interesting about the future of libraries in general.
Since many of the scholarly journals which comprised the math and biology libraries went online, foot traffic had become increasingly infrequent, Shirley Baker, the university's Dean of Libraries, told
Student Life
, so it made sense, in the face of budget cuts, to eliminate those two divisions. The bulk of the cost of maintaining the two libraries went toward the librarians' salaries.
The math and biology collections have been moved to space in Olin Library, the
main campus library
, and the two librarians have been reassigned to vacant positions in other library divisions.
This may be a harbinger of further changes within the Wash. U. library system. Budget cuts will be even steeper next year, which may force the libraries to rely even more heavily on electronic resources.
The widespread use of digital materials is changing the structure of libraries dramatically, pushing them to consolidate and weed out their print materials when online copies become available. Olin has adapted by creating a digital library team to push the process along. Its staff has also started to use Google Books to give students access to books they cannot find otherwise....

"When we talk about where the libraries will be as we finish our Plan for Excellence, it will probably be fewer physical libraries," Baker said. "The digital collections will grow dramatically; we may even remove some print from the main campus."
The idea that a library is a place to hold books has been rapidly eroding over the past few years. Perhaps the most dramatic instance of the newfangled library is the Rem Koolhaas-designed central branch of the Seattle Public Library, which opened in 2004.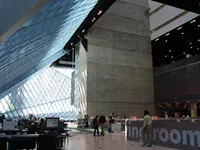 flickr.com/photos/davidballromney
Inside the Seattle Central Library.
Wrote Joshua Ramus, one of Koolhaas' partners, in
a 2003 prospectus
:
Our ambition is to redefine the library as an institution no longer exclusively dedicated to the book, but as an information store where all potent forms of media--new and old--are presented equally and legibly. In an age where information can be accessed anywhere, it is the simultaneity of all media and (more importantly) the curatorship of their contents that will make the library vital.

Baker assured Student Life that the library will continue to maintain book collections for disciplines like art and architecture that rely more heavily on printed rather than electronic material.

But it will be interesting to see how far the electronic revolution will go. Will it remain more cost-effective to switch from the bound to the electronic version if everybody prints out the articles instead, or will our eyes somehow adapt to reading everything on a screen?