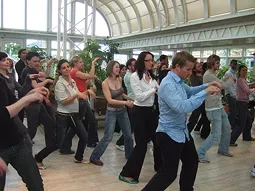 http://www.flickr.com/photos/wetwebwork/ / CC BY-SA 2.0
Back in April 2002, about 200,000 grade school kids across Canada simultaneously danced the
Hokey Pokey
. Thus was set the Guinness World Record for the Largest Simultaneous Dance.
That record could be in danger, though, and folks from
Sikeston, Missouri
have signed up to help shatter it. How? By rockin' the
Thriller
dance.
Thrill the World
is an online organization spawned a couple years ago by
Ines Markeljevic
, who according to her
website
, is a young Canadian dance and
pilates
instructor. Last year, Markeljevic and her group claimed to have set the world record for Largest Simultaneous Thriller Dance with 4,179 zombie-dancers in 72 cities in ten different countries (including Saudi Arabia).
This year, they want to pay
hommage
to the late
King of Pop
by breaking the Guinness World Record. And an
enterprising band of individuals
down in
Sikeston
will be pitching at the official date/time of October 24, 7:30 p.m. EST.
Click here for the story
, which originally appeared in the
Sikeston Standard Democrat
. It looks like the only other place in Missouri that's participating is Kansas City.
By the way,
TTW's Web site
is super-organized, with a
30-page PDF
showing the different starting times for cities around the world. The site also has
a page of links to YouTube clips in which Markeljevic shows you how to do the dance
. Get out your sweats and get to it: