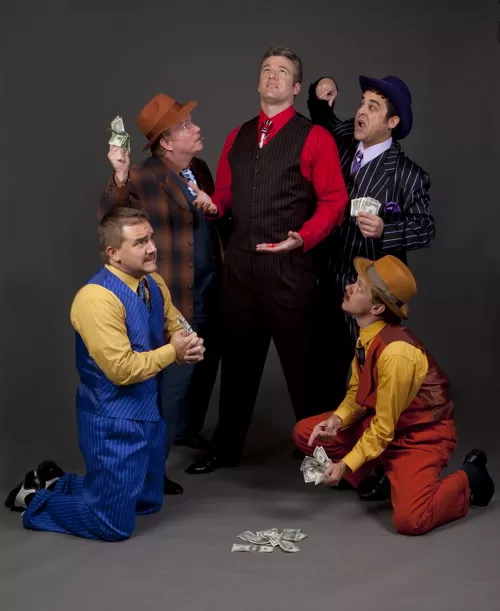 Whitney Curtis | stagesstlouis.org
Oh, craps! Guys and dollars!
Had you been a Tony Awards voter in the early 1950s, would you have voted for
Guys and Dolls
, which debuted on Broadway in November 1950 (and which opens a four-week stint at
Stages St. Louis
this weekend), or for
The King and I
, which opened four months later? Tough call.
So which show went home with the Tony?
They both did. In those days shows were grouped by year, not by season. So
Guys and Dolls
, the sassy adaptation of two short stories by the ever-irreverent Damon Runyon, won the Tony in 1951 and was neatly sandwiched between two Tony Award-winning Rodgers and Hammerstein stalwarts:
South Pacific
(1950) and
The King and I
(1952).
That original
G and D
stage adaptation is itself a storied production. Music and lyrics by Frank Loesser, a book primarily by Abe Burrows. Direction by George S. Kaufman and choreography by Michael Kidd. Legends all. I've always loved talking to those who were in any way linked to that original staging. When I worked at CBS,
Alan Alda
told me about how he accompanied his father Robert Alda (the original Sky Masterson) to most Saturday matinees, and this fourteen-year-old would watch in wonder from the wings, reveling in every brassy minute. Although Alda fils would be claimed by television, he is still stagestruck and returns to the stage on a regular basis.
In 1984 I was in England working on a CBS miniseries. One of the supporting roles was played by
Stubby Kaye
. Kaye was Broadway's original Marrying Sam in
Li'l Abner
and was fondly recalled (along with Nat King Cole) as one of the singing narrators of
Cat Ballou
. But to me he will forever be Nicely-Nicely Johnson. When he introduced "Sit Down, You're Rocking the Boat," Kaye made theater history. "It's a funny thing about that song," the jovial actor remarked. "I don't read music. I don't know one note from another. Sing it to me, then give me a few days all alone, and I'll know it pretty good. I practiced and practiced that song in Frank Loesser's apartment. We didn't give it a second thought. Then I went all through rehearsals. Nothin' special. Nobody knew what we had. But the first time I sang it in front of an audience, an opening night out-of-town in Philadelphia, my first Broadway show, the reaction floored us. That number was dynamite."
So it has ever been. "Sit Down" was also a star-maker for St. Louisan
Ken Page
when he sang it in an all-black Broadway revival in 1977. Two years ago when Page hosted the second annual
Kevin Kline Awards
, he opened the evening with "Sit Down." It still rocks.
Guys and Dolls
made its St. Louis debut in 1953. The national company played the original American Theater (on Market at Seventh) for three weeks even while the original Broadway production was still running. Pamela Britton (best known for her stint as Lorelei Brown on TV's
My Favorite Martian
) was Miss Adelaide.
The first of seven Muny stagings opened in 1955. It was far from the summer's biggest draw (inclement weather discouraged attendance), but it played to 66,000 people in one week. The musical returned to the Muny a mere two summers later, in 1955. Indeed, the show remains so perennially popular, it hardly seems to go away.
Now it's back at Stages with a cast of actors, several of whom -- according to their bios -- are "thrilled" to be here. It all sounds very promising.