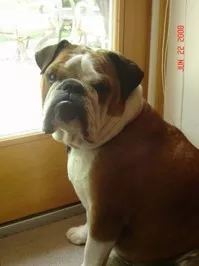 Last December we
told you about Lulu
, a bulldog from Warson Woods whose owners took her to the vet to discover some 15 pacifiers and a bit of basketball lodged in the dog's stomach.
Thankfully, the veterinary surgeons were able to remove the obstructions, and now Lulu is back.
She's been nominated as a finalist in Veterinary Pet Insurance's first annual
Hambone Award
, an honor given to the most bizarre animal medical claim of the past 12 months.
Read the stories of the other nominees
here
and then vote for Lulu.
It would really, ahem, pacify her to know you have her support.