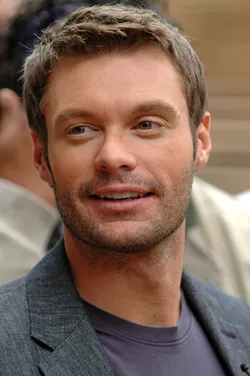 Yesterday I spoke with a casting director for a new television show produced by
American Idol
host Ryan Seacrest.
The show is to be called "Chance" and is scheduled to debut on a yet-to-be-named cable network late this fall. Before then -- on September 19 -- the show will arrive in St. Louis in search of contestants.
The casting director describes the show as sort of combo between
America's Got Talent
and
Extreme Makeover Home Edition
. To me, it also sounds a bit like one of those old-school Jerry Lewis or Lou Rawl's
telethons
.
Here's how it works...
Talented people or folks with hard-luck tales appear on the program and ask a panel of judges for money to help them achieve their goals.
As the casting director energetically informed me, contestants can run the gamut. They may be a promising musician who needs help paying for a new instrument; an Olympic hopeful who needs money to pay for his training; an unemployed mother who need groceries and a home for her children; a cancer patient with unpaid bills.
Those selected to appear on the show will go before the judges and either showcase their talents or provide their sob story. The judges will then decide whether or not to award aid (up to a maximum of $250,000) to the contestant.
St. Louis is just one of five cities from which the show is initially drawing contestants. So, people of the Gateway City, got a talent or a pathetic tale to tell Mr. Seacrest? If not, you have a little more than two weeks to come up with one.
Auditions for the show take place September 19 at
Patricia Stevens College
(330 North 4th St.) from 10 a.m. to 4 p.m.