Okay, okay. My last post today on Jeff Smith.
I swear!
But I just had to share this amusing nugget.
As I
reported this morning
, one of the many subplots in the criminal case assembled against the former state senator and members of his 2004 congressional campaign was their use of throw-away cellphones to corroborate the lies they told investigators.
Particularly intriguing was this little back-and-forth between Smith and Nick Adams, his former deputy campaign manager.
Adams: Can we get some of those pay as you go cell phones like on The Wire?
Smith: Buy three of them at Wal-Mart and meet tomorrow to pass them out.

So, later today I'm scrolling through the Post-Dispatch's
online archive
of pictures of Jeff Smith when I stumble upon the following AP photo and caption from 2006.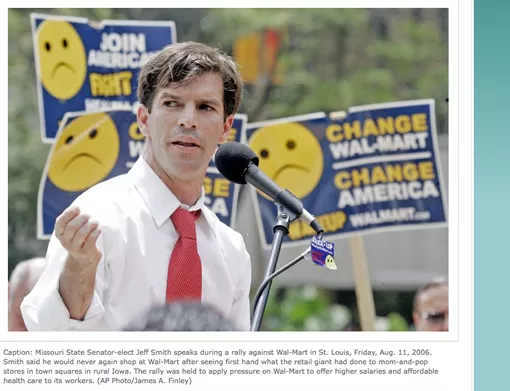 If you can't read the caption (I know the type is small) Smith is at a rally outside a St. Louis Wal-Mart. The caption states that "
Smith said he would never again shop at Wal-Mart after seeing first hand what the retail giant had done to mom-and-pop stores in town squares in rural Iowa."

In hindsight, we now know that Smith didn't mean he wouldn't have other people shop at at Wal-Mart, especially when pressed for tools needed to obstruct a federal investigation.