While the rest of America's auto-dealers are crying about the end of "Cash for Clunkers," the guv-mint bail out of GM, and other forms of socialism in this once-prosperous capitalist society, one Chesterfield car salesman knows what a true American patriot needs to make it through this recession: machine guns.
Lynch Hummer
in Chesterfield-- the largest Hummer dealership in the United States, according to
Motor Trend
-- has opened a new wing of its store called "Adventure Shooting Sports." The gas-guzzler-turned-arms-dealer proudly proclaims it now offers "the finest in hunting, tactical and home defense." They have also beat Stephen Colbert to the punch and registered the domain name GunsAndHummers.com.
Jim Lynch, the owner of the shop
tells CNN
that "he needed a second revenue stream to support his company" (and he's not the only Hummer hawker
facing that problem
these days) so he converted an entire showroom into an arms bazaar: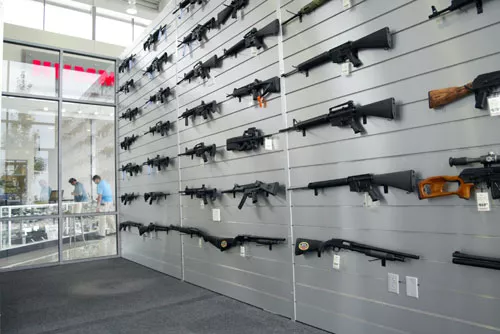 www.adventureshooting.com/
Gun rack not included with purchase of Hummer
The best part? The marketing ploy is a resounding success. Not only is the story on the front page of today's
Post-Dispatch
(and now on this blog, natch) but it has been picked up by just about every media outlet in the country, as a quick
Google news search
reveals.
The attention comes despite the fact that Lynch isn't the first car salesman in the country to have such a brilliant idea. In fact, he isn't even the first one in Missouri. That honor belongs to a dealer in the Kansas City area who offered a free AK-47 with every truck purchased.
From the
Daily RFT
archives
:
Mark Muller of Max Motors tells the Associated Press that the offer is an improvement on a similar promotion in which he gave away coupons for a Caltec pistol.
Lynch, though, says his idea is different because Hummer buyers are "
outdoorsmen
" (the dealership also boasts a 60-acre off-road course for people to test out their new vehicles) and are therefore in need of some heavy artillery. Frankly, he's doing his customers a great service. Now when they go to pick up their heinous fuel-sucking hulks they can kill two birds. Literally.