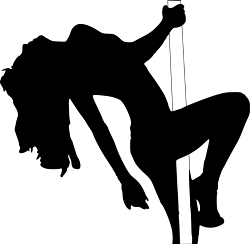 For the second time this month, a man was shot at the Brooklyn strip club the Pink Slip, the
Belleville News-Democrat
reports. This time the shooting was not deadly. Details are scarce but
here's the rub
:
A St. Louis man was shot inside a nightclub early Sunday.

According to Illinois State Police, a man was shot during a verbal fight at about 3:27 a.m. Sunday inside the Pink Slip Nightclub. The victim was Amos Blanchard, 35, of St. Louis, and he was transported to an area hospital for treatment.

His injuries are not considered life-threatening, according to police. A 22-year-old suspect is being questioned, they said.
Earlier this month, on Tuesday August 4, a 24 year-old woman was
fatally wounded
and her male companion were seriously injured in a shooting Illinois State Police believe was connected the all-black strip club. In that incident, investigators briefly closed the Poplar Street Bridge after victims led police to believe that the shooting happened on the westbound lanes of the freeway.
The incident again raises questions regarding metro east law enforcement's treatment of late-night violence at the east-side's all-night liquor-serving establishments.
From RFT's
feature story
on late-night east-side controversy:
The next day many reports about the gathering focused on a single statistic: The Illinois State Patrol stated that fifteen homicides over the past five years "came directly out of East St. Louis nightclubs."

Bramlett concedes the figure is inaccurate: Two of the murders were actually associated with clubs in nearby Washington Park and Venice, and one came from a report that vaguely cited "an undetermined East St. Louis nightclub."

Nevertheless, Bramlett says, his agency responds to enough nightclub-related shootings to validate the claim that the bars add to the body count. Beyond the murders, he notes, there were "five separate cases of weapons fired into vehicles as patrons are leaving the club and on their way back to St. Louis, and four cases where individuals were shot as a result of an issue in one of the clubs."
And the question of whether an earlier last call would solve the problem:
Many of those in favor of rolling back the clubs' hours acknowledge that any new measures will be counterproductive if not applied to all of St. Clair County.

City council member Delbert Marion has a full-time job as chief of police in the tiny village of Brooklyn, a few miles north of East St. Louis on Route 3. The town is home to several popular strip clubs that remain open all night.

Marion says the crowd the strip joints draw already strains his eight-man police force. "On a Friday night our population already doubles," he says. "If East St. Louis is at the forefront of closing early, those displaced people are going to come to little communities like Alorton, Centreville and Washington Park, and other city leaders are going to have to look at doing the same thing."