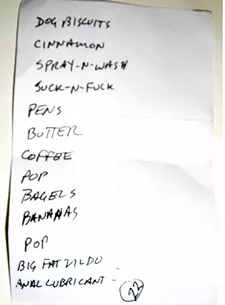 Just saw a
tweet
that Bill Keaggy has revamped his website said to be the "world's largest" online collection of
found grocery lists
. (Are there any others?)
The online repository now contains some 2,000 lists that Keaggy has collected at St. Louis supermarkets or received via mail from fans of his collection.
Don't know about you, but I'm particularly fond of the list that appears as No. 2,000 (pictured here).
While the shopper may have discovered anal lube at the grocery store, something tells me she (or he?) didn't come across a "big fat dildo" -- unless it was somehow stocked in the laundry aisle between the Spray-n-Wash and the "suck-n-fuck."
View more of Keaggy's DIY projects at his website
keaggy.com
, or check out
this article
to learn more about the unusual artist/collector.