For those of you still in college, this is the last weekend of summer. Time to get out there and make as many mistakes as possible in the next 48 hours before lying to yourself that you're "really going to hit the books" this semester.
For the rest of us, there's a variety of cheap choices this weekend -- from butterflies and books to local showcases of hip-hop and punk bands. Here's ten things to do for less than $10 this weekend for you and yo' broke-ass friends:
Pride and Passion at St. Louis Public Library (Through Friday)
Pride and Passion: The African American Baseball Experienc
e
, a joint exhibition mounted by the National Baseball Hall of Fame and Museum and the American Library Association, reveals the history of America's struggles with race and baseball through text and photographs. The exhibit's last day is today, August 21, at the Central branch of the St. Louis Public Library (1301 Olive Street; 314-241-2288 or
www.slpl.org
). At 2 p.m., baseball writer Joe Posnanski of the
Kansas City Star
visits to talk about
The Soul of Baseball: A Trip Through Buck O'Neil's America
, his book about a summer spent traveling and watching baseball with Negro League legend Buck O'Neil. Admission is free.
Paul Friswold has more details here
.
Black Spade is on the line-up for the Hip Hoppers Holiday show Saturday at the Atomic Cowboy.
Hip Hoppers Holiday at Atomic Cowboy (Saturday)
Atomic Cowboy is the place to be Saturday, when the Hip Hoppers Holiday invades the venue all day. The $5 event starts at 3 p.m., goes until 3 a.m., and is all-ages until midnight. Annie Zaleski has the info, including the line-up (Midwest Avengers, Black Spade, Earthworms, and more) in
A to Z
.
Binge & Purge and Apop Records Barbecue (Saturday)
Cherokee Street staple Apop Records (2831 Cherokee Street) and new-comer, vintage store Binge & Purge (2839 Cherokee Street) are co-hosting a Summer's End BBQ starting tomorrow (August 22) at 2 p.m. Punk rules the line-up on this gig (Dark Ages, Cardiac Arrest, God Fodder, Medical Tourists, and more), with promised food available as well. Read more details over in
A to Z
.
Butterfly Gardening at Bowood Farms (Saturday)
When was the last time you appreciated creatures in your garden? Today at 2 p.m., let green-thumbed expert Tom "Terrific" Krauska share the whys and hows of butterfly gardening. This fun class takes place in the lovely, blooming confines of Bowood Farms (4605 Olive Street), and Krauska will tell you all you need to know to turn your own garden into a bona fide Lepidoptera lounge. The event is free; call 314-454-6868 or visit
www.bowoodfarms.com
for more information.
Brooke Foster has more details here
.
U2 3D at the Tivoli Theatre (Friday and Saturday)
"A film shows one of the world's greatest bands performing in South Africa on its Vertigo tour," reads the description for this midnight showing at the Tivoli. If you're a fan of the 3D trend in film, this is for you, if you're not, you can at least make fun of Bono with your friends. Tickets are $7 for the midnight shows on Friday and Saturday at this theater in the Delmar Loop (6350 Delmar Boulevard.)
More details are in A to Z
.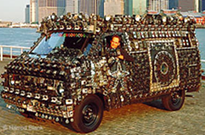 Harrod Black's Cameravan.
Automorphosis at Webster University (All Weekend)
Automorphosis
is filmmaker Harrod Blank's exploration of the reasons why people spend their time and money crafting fantastic automobiles. A car artist himself (he built the Camera Van, a 1972 van covered with hundreds of cameras, ten of which worked), Blank relates his own story of auto-obsession with those of famed spoonbender Uri Geller (owner of the fork-and-spoon-covered "Peace Car") and the less well-known Howard Davis, who drives a Volkswagen Beetle custom built to look like a 1970s-era desk phone -- and yes, it has a phone mounted inside it. So at 8 p.m. Friday through Sunday (August 21 through 23), the Webster Film Series hosts a rare late-summer film in Webster University's Moore Auditorium (470 East Lockwood Avenue; 314-968-7487 or
www.webster.edu/filmseries
). Tickets are $5-$6.
Paul Friswold has more details here
.
YMCA Book Fair at the Kennedy Recreation Center (All Weekend)
Ten dollars doesn't stretch very far these days, even for the thriftiest bargain hunter. But if you're smart, you'll head to the 31st annual YMCA Book Fair and put your money towards some more tangible pleasures. The sale runs from Friday through Wednesday (August 21 through 26), and it offers more than 60 categories of new and used books, magazines and even CDs. Admission is $10 on Friday, and free every day thereafter. The fair is open from 4 to 10 p.m. Friday, 9 a.m. to 9 p.m. Saturday through Wednesday at the Kennedy Recreation Center (6050 Wells Road; 314-353-4960, extension 50 or
www.ymcabookfair.org
).
Courtney Schilling has more details here
.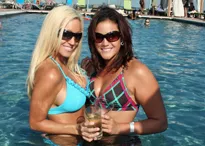 "Oh hey, we're just hanging out in this pool, posing with our mixed drinks."
Girls Next Door Party at the Four Seasons (Sunday)
Take a handful of "girls next door," the not-so-original but wholly local name for Inside STL's weekly
oggle-fest
, put them around a swimming pool and have an '
80s rock-lovin' news anchor
be the emcee? Yes, it's happening on Sunday at the Four Seasons downtown. Tickets are just $5, according to the people over at
InsideSTL
.
More details here
.
Festival of Little Hills in St. Charles (All Weekend)
The Festival of the Little Hills, held Friday through Sunday (August 21 to 23) at Frontier Park (South Main Street and First Capitol Drive, St. Charles), offers so much good festival fun that it's difficult to say what part will be best.
Alison Sieloff has more details here
.
Streetballers at the Tivoli Theatre and Ronnies 20 (All Weekend)
When
Matthew Krentz
set out six years ago to create a feature-length film in
St. Louis
, he had no idea that making the movie would be the easiest part of the equation. The movie shows in St. Louis this weekend.
Chad Garrison has the full story here
.