This week's feature story,
"Dr. Feelbad,"
profiles the downfall of
Dr. Alexander Kalk
, by most accounts a dedicated, caring doctor whose own battle with mental illness eventually ruined his business. Kalk has since relocated to Austin, Texas and is applying for a medical license in that state. Keegan Hamilton's story describes how Kalk was charged with tossing the files of 466 patients -- which included medical histories and Social Security numbers -- into a Dumpster behind a shopping mall, among other acts. Somehow, he continued to practice medicine during this three-year period. He surrendered his Missouri Medical license on July 1, 2009.
Kalk took out a variety of ads in this very newspaper that he admitted in a recent interview were pretty strange:
"You could probably say [my illness started] about the time I started running the ads in the RFT," Kalk says. "That was clearly abnormal."
The ads begin as fairly straightforward promotions of his business:
Eventually they begin to refer facetiously to his troubled personal life. This ad, from the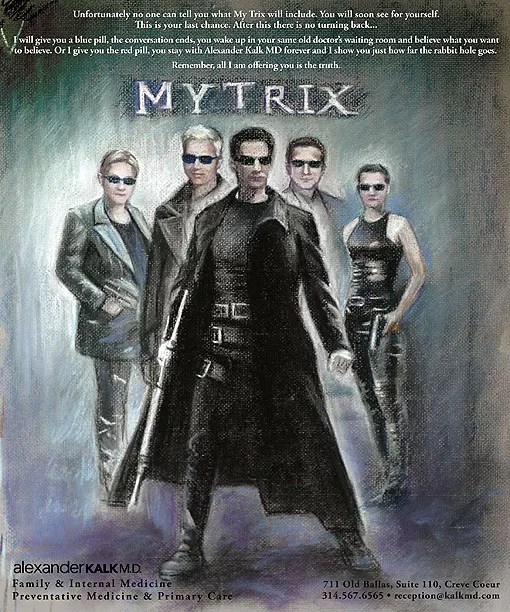 And Dude, Where's My Car? (From 10-12-2006):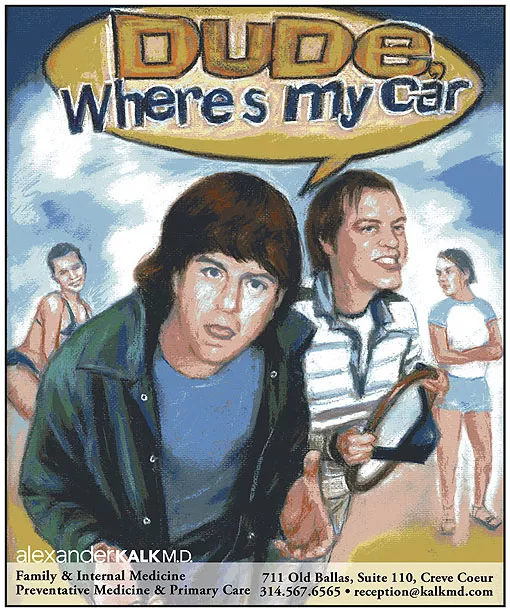 Kalk and Stewart quickly forged a friendship that extended well beyond normal doctor-patient boundaries. On September 28, 2006, Kalk says he crashed his Honda Accord and couldn't remember where he left the vehicle. He then reported the car stolen and asked Stewart to try to locate it for him.

"I had NyQuil, and I was driving with a 102-degree fever," Kalk recounts. "Instead of staying home and not working, I tried to drive to work. I basically had a problem where I hit tires against curb and left it at a gas station. Then the car got towed away. Jim was able to find the car."

Kalk celebrated the incident by placing an ad in Riverfront Times in October 2006. The poster for the movie Dude, Where's My Car? was altered to include his and Stewart's faces over those of the actors.


That's supposed to be Kalk wearing the jacket and Stewart with the steering wheel.
In the October 19, 2006 RFT, Kalk ran this ad comparing his practice (located at 711 Old Ballas Road in Creve Coeur) to a strip club: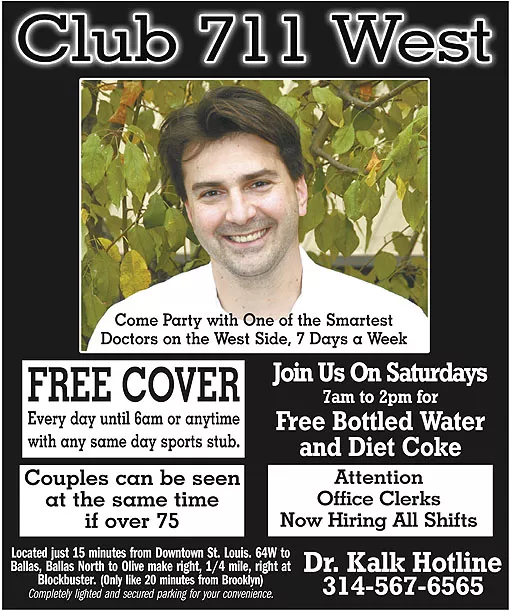 Kalk also commissioned this cover story in the January 2007 edition of Ladue News:
Kalk was issued a cease and desist order in July 2007 after he repeatedly plastered newstands with magnets bearing the likeness of Che Guevara and the slogan "A Revolutionary Doctor."
Sadly, Kalk's spending on advertisements (though sometimes he failed to pay and his account with RFT was eventually sent to collections) contributed to his downfall. A few pertinent sections from the story:
Court documents reveal that Kalk was in dire financial straits. A detailed income report he submitted to the court during the divorce shows his practice lost more than $90,000 in 2006. One of his biggest expenses, $56,000, was advertising...

In 2007 and 2008 collection agencies and medical-billing companies hounded him about his credit-card debt and unpaid bills. The state Department of Labor and Industrial Relations contacted him several times regarding back pay he owed to his employees, and the Internal Revenue Service garnished his wages after he failed to pay his taxes...

Kalk filed for bankruptcy on April 15, 2009, claiming more than $1.1 million in liabilities and just $300 in total assets, in the form of a used TV set.
Next: Kalk's bizarre filings in St. Louis County divorce court.