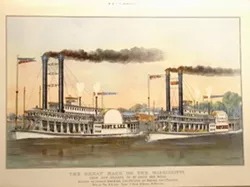 Once again the universities of Missouri and Illinois will start their football season with a game September 5 at the Edward Jones Dome.
But besides the gridiron showdown and all the pre- and post-game tailgating downtown, this year's competition features something better. What really matters in 2009 is which team wins the riverboat race down the Mississippi.
Yeah, that's right. On Saturday morning before the game, fans can hop aboard two riverboats (one for Mizzou, the other for the Illini) for a race down the river.
The St. Louis Sports Commission and the St. Louis Convention and Visitors Commission are sponsoring the event. Click
here
for more information and to reserve your spot on the deck.
Mark Twain would be so proud.