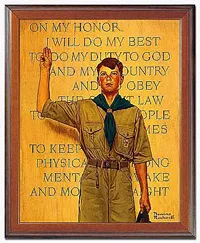 "We qualify for exemption from the ban -- Scout's honor."
The bill that could go before voters
banning smoking in some St. Louis County establishments
would rely on the word of bar owners to determine whether or not their tavern should be excluded from the ban.
As the bill currently reads, casinos and bars that generate 75 percent or more of their sales from alcohol would be excluded from the ban. But the county does not plan to check the sales receipts from bars and taverns to make sure they actually qualify for an exemption. Instead bar owners would send the county a notarized statement swearing that they qualify for the ban.
It's not hard to see how unscrupulous bar owners could easily exploit the system to avoid the ban, yet county officials say there's nothing they can do.
That's because the county only has three employees to process applications for the ban, and one of those workers will soon depart for another job. A hiring freeze will then leave it a two-person job.
As Eugene Leung, director of the county's revenue department,
tells the Post-Dispatch this morning
, his department's role is not to investigate taverns. It's simply there to oversee the applications.
Enforcing the ban will be the job of the county health department -- which could also allow bar owners to evade the ban.
Enforcement of the statewide smoking ban in Illinois falls under the auspices of the state health department who's few officers are unable to track down violations. As a result,
smoking in many Illinois taverns continues unabated
despite a blanket state smoking ban that includes casinos and all taverns.