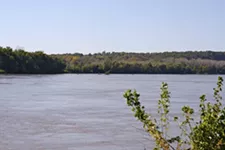 flickr.com/photos/bbum
The drowning occurred near Huntsdale, Missouri, a stop along the Katy Trail.
Here's a heart-wrenching story from over the weekend.
The
Columbia Daily Tribune
reports that 15-year-old Corey Morris died Saturday after saving an 8-year-old from drowning in the Missouri River.
The Columbia teenager reportedly jumped into the river after the younger child fell into the water. Morris was able to push the child to safety but then became trapped in the current himself.
The Missouri Water Patrol stated that Morris had been underwater for four to six minutes by the time he was pulled from the river. He was airlifted to a hospital in Columbia where he was pronounced dead.