Photo: Egan O'Keefe
Organizers of the ride, who ran it last year as a school project, but continued this year for fun. See more photos from the ride.
Well, the 2009 version of the St. Louis
World Naked Bike Ride
, a bare-assed protest against the world's dependency on fossil fuels, is in the books. Like last year, riders rolled out of Tower Grove Park at 9 p.m. under the cover of darkness and pedaled through a sliver of the Bible Belt with little more on than strategically placed body paint. They arrived on Manchester, greeted by cheers from supporters outside the several bars in the Grove, with many riders eventually opting to party at the Atomic Cowboy afterward.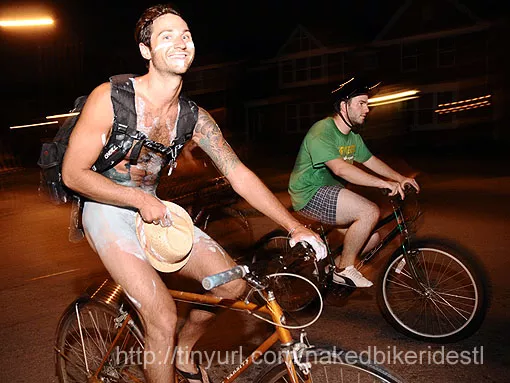 Photographer
Egan O'Keefe
was there and has this
slideshow of the festivities
, which is not safe for work, natch.
Also this year, videographers
Stew Smith
and
Amanda Andert
were there to interview the participants.