Rick Nadeau's squirrels
, featured in
this week's cover story
, are just an entry into the wonderful world of anthropomorphic taxidermy.
Tia Resleure's site,
A Case of Curiosities
, is the most complete source of information about the Victorian tableau-artist
Walter Potter
. Resleure also has photos of some of Potter's best dioramas.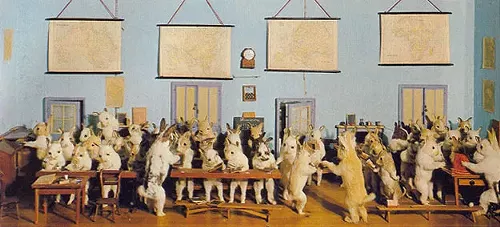 A Case of Curiosities
The Rabbits' Village School, 1888
In addition to being a Potter historian, Resleure is a taxidermist herself. She has posted plenty of
her own work
.
A Case of Curiosities
Esmeralda (Fortune-telling chicken)
The Rogue taxidermists have conceived an entirely different philosophy and practice of taxidermy. Their website, the
Minnesota Association of Rogue Taxidermists
, gives you an idea of the scope of their work, both past and present.
Minnesota Association of Rogue Taxidermists
Chimera by Sarina Brewer, from the group's first show in 2004
Rogues
Scott Bibus
and
Robert Marbury
contribute to the MART site, but they have web pages of their own. Bibus specializes in the grotesque, while Marbury creates "urban beasts."
Scott Bibus
Bibus' gift to his girlfriend on their most recent anniversary.
The Urban Beast Project
Kaiser the Punk Marmot by Robert Marbury
Jeanie M has been practicing "mouseadermy" for nearly 20 years. She has a gallery of mice on her website,
Mouse Angel
. Some have been used as wedding cake toppers.
Jeanie M
Shiva, the Hindu god of mouse-death
Also check out Tashedi Yamada at
Sideshow World
. Yamada lives, appropriately, in Coney Island and was
profiled
a few years ago by the
Village Voice
.