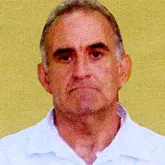 A Myanmar court yesterday sentenced
John Yettaw
to seven years of hard labor. As you'll recall, the Falcon, Missouri, man made
international headlines
(and earned a
Daily RFT
"Ass Clown" nomination
) back in May when he entered Myanmar illegally and swam across a lake to visit the detained pro-democracy leader Aung San Suu Kyi.
Yettaw's action allowed the Myanmar regime to charge the Nobel Peace Prize laureate Suu Kyi with violating the terms of her house arrest. Yesterday, a Myanmar court
sentenced Suu Kyi to additional 18 month of house arrest
after initially sentencing her to three years of hard labor. The 64-year-old Suu Kyi has spent the past 14 years detained in her home.
In recent weeks Yettaw, 53, has been hospitalized for epileptic seizures and is said to also suffer asthma and diabetes. Those closest to him wonder if he'll survive the prison sentence.
"How is he going to do hard labor if he is so ill?" his former wife, Yvonne Yettaw, told The Associated Press by telephone from Palm Springs, California. "Maybe they'll realize he won't make it seven years, and they'll send him home."
Later this week Virginia Sen. Jim Webb is scheduled to visit Myanmar as part of a five-nation Asia tour and some speculate the senator will ask for Yettaw's release. But that's not likely, according to Yettaw's Myanmar attorney who believes Yettaw will be deported but "not immediately."