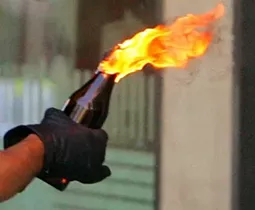 Who knew rural Missouri was a hotbed of bomb-throwing radicalism?
Yeah, no. But
according to the News-Leader
, a guy down in
Greene County
(southwest of Springfield) just got nabbed for stealing a car, in which car authorities found a molotov cocktail.
Best quote from police:
"I've been on the force 17 years and it's the first one I've seen," said Greene County deputy Sgt. Christian Conrad.

But what, oh what, was
Theodore Lane
(a 31-year-old resident of Aurora) gonna do with his radical explosion-making machine? Police speculate he may've been planning to use it against the cops or to blow up his stolen vehicle.
The
Daily RFT'
s theory: He was
en route
to a town hall meeting on health care.