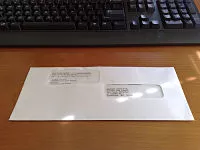 Thanks to the federal stimulus, Friday, August 7, was payday for hundreds of urban youths. At least, it was supposed to be.
The teens had all found work this summer through
UrbanFORCE
, a program sponsored by the
St. Louis Agency for Training and Employment (SLATE)
that matches St. Louis residents, ages 14 to 24, with local businesses looking for workers. The young people would labor through the summer, and their wages would be paid with money from President Obama's stimulus package.
But last Friday afternoon many of the teenagers leaving the Friendly Temple Baptist Church on Martin Luther King Drive did not look happy.
"I didn't get paid," grouses nineteen-year-old Cepeda Whiteside. "I've worked at least 60 hours. I've got kids to take care of."
Seventeen-year-old Melissa Hill, a cell phone to her ear, explains: "They spelled my last name wrong, so now I can't cash my paycheck. How do you get Hikk out of Hill? They gave me this number to call to complain." A few moments later, she snaps the phone shut in disgust. "They gave me a fax number."
Anthony Coleman, who is fifteen, received the correct amount in his pay envelope. "They still owe me my orientation check, though," he says. "It's $100."
UrbanFORCE is one of the city's first beneficiaries of the American Recovery and Reinvestment Act. On April 24, Vice President Biden came to St. Louis and informed Michael K. Holmes, SLATE's executive director, and Alice Prince, the youth services manager, that UrbanFORCE would be receiving a substantial allotment that would allow them to sponsor 1,611 workers, compared to the usual 300. Prince and Holmes were thrilled.

The only catch: They had to have the program up and running by June 4 -- not a lot of time, considering they had to process 5,000 applicants as well as hire and train more than 50 staff members.
"There was no preparation," Holmes concedes. "Most of our staff was college students. They came home from school May 15, and then the legislature had to decide to accept the stimulus money, so we had to wait for the session to be over."
Nonetheless, dozens of businesses agreed to hire UrbanFORCE workers for six- and eight-week-long assignments. Students have been working for, among other places, KETC-Channel 9, the Union Station Marriott, Ameren UE, Operation Brightside, the St. Louis Department of Health, Mason Cleaning and Monsanto.
"We tried to match our participants' interests with their career goals," says Prince. Depending on their level of education, students earn between $7.25 and $12 per hour which, Prince notes, is above minimum wage.
"It's the first job for a lot of the students," says Jami Dolby, SLATE's communications director.
This was obvious to some employers like Saba Cetawayo, a promoter and talent scout at Platinum Plus Recording Studio in Mt. Pleasant. He started with nine UrbanFORCE workers, but had to fire four of them.
"We had some disciplinary issues," he says. "It was kind of hectic for the business because we were kind of babysitting. You say, 'You got to sweep the floor,' but they were like, 'Ah, man, why do I have to do that, it's hot outside.'"
The real problems began, though, when paychecks started to arrive -- or didn't.
"The very first payday, they didn't get their check," says Cetawayo. "They had this negative perception. So a couple of them didn't show up for two, three days because UrbanFORCE didn't pay them. It took four weeks for them to get their checks, and that didn't help the mentality."
A memo issued by Prince on June 29 to the UrbanFORCE staff and affiliates acknowledged the lack of paychecks, which it described as a "correctable yet major issue." The memo continued: "Rest assured the team is working overtime to find a quick solution....Please tell all participants to continue to go to work. They will be fully compensated for their time."
Dolby says some of the paycheck issues are due to lack of communication. It takes two weeks to process the checks. "They're expecting three weeks," she says, "and they get paid for two weeks. Some have to pick up their checks at our partner site, not at the Friendly Temple, so we might not have their checks here."
Students with issues have been encouraged to call UrbanFORCE, Dolby says, and a communications room has been set up at the Friendly Temple.
Kim Collins, sixteen, was at the Friendly Temple on Friday. "They didn't have any information or a check for me," she says. "They said to call back Monday. No one ever picks up the phone."
UrbanFORCE administrators prefer to focus on the positive aspects of the program. "I was over at KETC yesterday," says Dolby, "and they were talking about giving one of the kids an internship. One of the instructors told me she was better at graphics than he was. The Union Station Marriott is talking about hiring some of the youth full-time, or part-time if they're still in school.
"You have to remember that we're growing, growing, growing," Dolby continues. "This has really been a success. We're one of the best programs in the state. We have met and exceeded our goals."
Back at the Friendly Temple, sixteen-year-old Lamar Miller frowns at his paycheck. Was it not what he expected? "It's right," he says, "but they took out taxes."