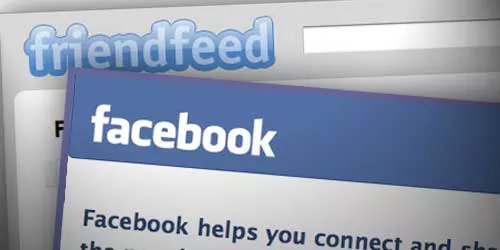 Facebook
announced yesterday
that it is aquiring
Friendfeed
for
"roughly $50 Million"
acording to Techchrunch
. This may or may not mean anything to you depending on if you are a current user of Friendfeed.
Friendfeed has always been one of the secondary status update services that started shortly after
Twitter
did but never gained the popular momentum of Twitter. There have been a lot of these that have come and gone and a few that are still around. Friendfeed was one of the ones that has stuck around, though traffic and growth
have been flat
in recent months.
Built by a team of former Google engineers, Friendfeed probably has one of the most loyal user bases of all the twitter-like services. Among them are a lot of influential early adopters who liked many of the advanced features of Friendfeed such as threaded conversations, inline display of photos and other media, ability to update your stream from other social media sites (you can have it automatically notify your followers when you favorite a video on YouTube or upload photos to Flickr for instance). You can also organize your followers into groups and create "rooms" for specific conversations. Ironically it can also update your Twitter stream. But all of these features (many of which Twitter users wish Twitter had), weren't enough to make Friendfeed compete with the popularity of Twitter. It never got past being the geeky Twitter.
Most of the speculation about why Facebook would want to acquire Friendfeed points to search and talent. With the acquisition of Friendfeed, Facebook gains some former Google talent that helped create Google Maps and Gmail. The other thing that Facebook gains is the
real time search technology
that Friendfeed has developed. This has many saying that Facebook is gunning to take on Google.
You might be wondering how an acquisition of a second tier social network helps Facebook compete with Google on search, well there is the talent I mentioned above. Friendfeed has developed a pretty unique real time search function. But there is more than that, Facebook and Google both realize that the future of search, specifically the future of search accuracy depends on relevancy. And the best way to determine what is relevant to you is to
know what's relevant to your friends
. So the combination of Facebook's deep and fast-growing social graph and the acquisition of Friendfeed's team who developed a unique real time search is a powerful play in this direction.
So how does this affect Friendfeed's users? Facebook isn't saying how long they'll keep the service going on its own. Most people think that Friendfeed will eventually get swallowed up into Facebook and cease to exist as a separate service. Nobody really knows. Many users are expecting this and are understandably disappointed.
Oh, and one more thing, the combination of the words Facebook and Friendfeed, is Facefeed which reminded me of this great Onion video:
New Wearable Feedbags Let Americans Eat More, Move Less
So what do you think? Are you a Friendfeed user? Are you happy about this deal? Do you think it's a good idea to eat fast food from a bag strapped to your face? Let it fly in the comments.