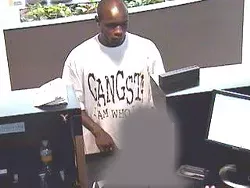 Photos courtesy FBI
What do you expect of a gangsta?
I tend to ignore most breaking news releases asking the public for help tracking down armed robbers.
But this one about a robbery today of a Commerce Bank in suburban Webster Groves is just too good to pass up -- if only because of the "Gangsta" t-shirt the suspect chose to wear during the heist.
My question: Was the novelty shop where the robber buys his clothes all out of t-shirts that say: "Bank Robber"?
Read the FBI's breaking news release (and
see more pictures!
) of the robbery after the jump.
August 10, 2009
FBI and Webster Groves Police are Searching for Bank Robber

At 10:21 AM today, a man robbed the Commerce Bank at 8050 Big Bend in Webster Groves, MO.
The robber passed a note to the teller which stated, "I have a gun. I will kill you. Give me your $100's and $50's." He did not display a weapon but motioned he was carrying one. The robber left after the teller gave him an undisclosed amount of money.
The robber is described as a black male with dark complexion, between 25 to 35 years old and around 6'1" - 6'2" tall. He has a muscular build with no facial hair. He was wearing dark pants with a white t-shirt with words in the front and a giant handprint in the back. There is no vehicle description.
We DO NOT believe the person who robbed this bank is the same one who robbed the Commerce Bank on 4401 Natural Bridge last Thursday (August 6, 2009).
If you have any information, call St. Louis Crimestoppers at 866-371-TIPS of the FBI in St. Louis at 314-231-4324.
This is the 43rd bank robbery so far this year.