As outstanding as it was to finally see the
Cardinals
able to seal the deal against the
Pirates
and finish off the sweep, it's far too early to relax. Even after dropping two of three to the Rockies, the Cubs are still surging, and the Cards are going to need to keep winning games if they want to stay ahead.
Tonight, the Cardinals open a three game series against Cincinnati, and in the very first game, we get one of the most intriguing subplots for the rest of the season.
Kyle Lohse
, after
struggling badly in his last start,
will be trying to bounce back and reclaim his spot in the good graces of fans, as well as his standing in the rotation.
It's been a trying season for Kyle Lohse, after signing a brand new 4 year, $40 million deal over the offseason.
He started off like a house on fire in April
, posting a 1.97 ERA in five starts, then got blown up in May. His ERA in four May starts was 6.85, odd enough for a pitcher who had been so consistent since coming to the Cardinals, but that was just the beginning of the weirdness for Kyle.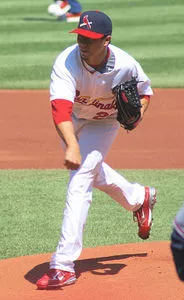 A run of really odd injuries culminated in Lohse making the first trip to the disabled list of his career after he was hit by a pitch on the forearm, and the resulting injury made it impossible for him to properly grip and throw a baseball. He threw only two innings in one abortive June start before returning in mid-July. Since then, Lohse has been wildly inconsistent, alternating good starts and bad ones. (And really, I say good, but I mean adequate.)
The thing is, Kyle Lohse is probably one of the most important members of this Cardinal team as we all head into the stretch. Given the abundance of off-days, the Cards can mostly go to a four man rotation and simply avoid the pitfalls of letting Todd Wellemeyer take the ball entirely. (And yes, I know he's pitching tomorrow night, but I'm trying to just ignore that for now. I'll rant about it properly tomorrow, but for now, there's really no point in getting all worked up about it and forgetting what I'm talking about today.) But even if the Cards do manage to avoid any more trouncings on Colonel days, they simply can't avoid Kyle Lohse.
We've seen what a huge difference the new acquisitions have made to this offense already. This is now a powerhouse team, at least at the plate. The problem, of course, is whereas earlier in the season the rotation was doing some truly remarkable things to keep the team afloat, the pitching is now starting to look more and more like a real concern. Chris Carpenter and Adam Wainwright have both been tremendous, with Wainwright actually being a little more impressive, truth be told. Joel Pineiro has, of course, given us all reason to believe that pretty much anyone can turn into a Cy Young candidate in three easy steps, but two shaky outings in a row should, perhaps, give us all pause. I don't expect Pineiro to implode or anything, but let's face it: I don't think it was in any way realistic to think Joel Pineiro was going to finish the season with an ERA in the mid-2s.
So that leaves Lohse. It isn't fair to judge a player by his contract, and I try never to do so. Players are never really paid by what they've done, after all; players are paid by how much leverage they have. But Kyle Lohse got a whole bunch of money, and a whole bunch of security, just not too long ago, and he needs to get it turned around. We should probably all just forget his last start; I respect the hell out of him for
taking the mound in the midst of such a time of personal trial
, but in hindsight, we might all have been better off if Kyle had taken some time to get his head right. Tough to say, really, and that's why I just write that start off.
But as for the rest of his starts, there's no such easy answer as to why he's struggled so badly. After displaying really remarkable control last season, Lohse has been maddeningly inconsistent since coming back from the DL. In 22 July innings, Lohse posted only a 12/9 K/BB ratio, and that just isn't going to get the job done. Maybe he's just struggling with trying to get back into a rhythm after missing time for the first time in his career; I don't really know. Regardless of the reason why, though, Kyle needs to get it together, and he needs to figure it out soon.
As I said, the Cards can just avoid Wellemeyer for the most part the rest of this season if they so choose, and even the occasional bad game from that quadrant isn't going to sink them. But I don't think they can absorb two starters going in the tank; this team probably needs to play at least .600 ball the rest of the way to feel really good about staying in front of Chicago, and that's tough to do if you're essentially punting one or two games every time through the rotation. Add in a bit of regression for Pineiro, and it's easy to see the Cards really need Kyle Lohse to step up.
The Cincy series should be a pretty decent place to start. The Reds aren't anywhere near the offensive juggernaut they have been in recent years, and Lohse needs to take advantage of that fact.
The Cardinals are going to need Kyle Lohse to be the guy they handed the big contract to the rest of this season. If he isn't, even this shiny new offense may not be enough to keep piling up the victories.
Then again, it might.