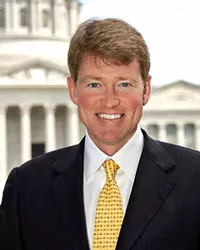 Si. Es la verdad.
Forgive me my poor Spanish. But how else to share the news with
Daily RFT
's huge (ie. "gigante") Spanish-speaking audience that this week Missouri Attorney General
Chris Koster
will unveil a new bilingual website.
Yes, it's true! Koster is holding a press conference to announce the site this Thursday (1:30 p.m.) at the Old Post Office in downtown St. Louis.
States Koster's press secretary, Chris Roark, in an email to media today:
Passage of Missouri's English-only Constitutional Amendment in 2008 cannot mean that Spanish-speaking minorities are purposefully left without access to our government. Attorney General Koster will announce a new version of his website designed to allow individuals with limited English-language skills to seek help and report fraud or abuse.