Here at Unreal's dear old RFT base of operations, we get TONS of e-mail. By TONS we mean scads, heaps, piles, mountains. Think: landfill. We're, like, the cat lady of e-mails.

But we're not complaining. Fact is, scrolling down our inbox, sifting through our massively clogged spam filter -- and throwing nearly everything away -- can induce in Unreal a Zen-like calm. There's a certain Dada-ist bent to the process, even as the eyes glaze over and the brain's alpha waves kick in. Every once in a while, a chunk of virtual flotsam catches our eye and won't let go...

Such was the case this morning, when we encountered:

Subject: Yaz Ayları için Oyuncaklar



Now, Unreal is no multilinguist, but we're pretty sure that's Turkish, and that toys are involved.

Sure enough, here's a screenshot of the body of the e-mail:


At least that's as much as we could fit in one grab. As transfixed as we were by the Syma Fairy R/C Helikopter, and as mystified as we were at the Powerball twins, what we really coveted appeared farther down...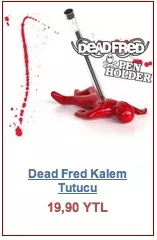 That's right, ladies and germs, it's a
Dead Fred Pen Holder
, known to our friends across the Aegean Sea as the
Dead Fred Kalem Tutucu
! Want your very own? Just click the pic!
P.S.: While you're at it, you might be inclined to do as Unreal intends to and pick up a pair of your very own
Aroma Home Hot Sox Feet Warmers
...
...though with the
Turkish lira trading at about 69 cents to the U.S. dollar
, those fuschia beauties are a tad spendy.
P.P.S.: These
online translation sites
are a gas. Here's a translation of the Dead Fred product description:
Her pencil en which We loved a continuous to lose hepimiz habit. The table darns over Dead which comes if to make things exist is going pleasant, nicely Fredi the nay does private until this you can understand (rahatlikla). This silikon-(kavucuk) a human your pencil can throw at her name a sacrifice does very ready.

The Feet Warmers are even better:
Cold winter day the feet both which has got cold and yorgunï is bad perhaps stand whole day they got swollen and (sikistilarï) is here in your shoe at a moment Feet to your help Warmers will catch. This (yumsacik) stockings her best friend will become (ayaklarinzin). Her most beautiful side herbirinin to the soot she becomes her private to the yourself smells and you want they to become warmer and (isitilabilimeleri) at a microwave bastard.