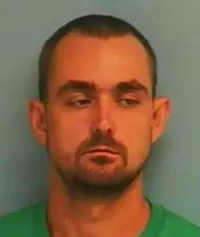 You remember Dale Phillips, don't you?
He's the Joplin, Missouri, man accused last week of playing a drinking game with his 11-year-old nephew, Tyler Fecko.
Uncle Dale won the game after Tyler
died from alcohol poisoning
.
By an overwhelming margin,
Daily RFT
readers have nominated Phillips as their
Ass Clown of the Week
. He took a whopping 53 percent of the vote.
The rest of the results after the jump.
Fans of the Philladelphia Phillies, who made news last week for
shining a laser pointer
into the eyes of Cardinals players and for
beating to death a man
in a parking lot of Citizens Bank Park, came in second place with 21 percent of the vote.
A dubious father-and-son mortician team from central Missouri, accused of
falsifyng cremations
and allowing bodies to rot, took 16 percent of the vote.
And the
fake Laclede Gas man
-- now identified as Samuel Jamison of St. Louis -- captured just 6 percent of the vote.
Thanks everyone for voting. Back at you next week with a new slate of candidates.