There's something for everyone among this week's openings.
Kids are apt to be amused by
Alice in Wonderland
, this summer's musical for children at
Stages St. Louis
. You're not likely to see this show on Broadway or at the Fox. Based on the 1951 Disney animated movie (which in turn of course was based on the Lewis Carroll fantasy
Alice's Adventures Under Ground
), it was created by Disney Theatricals strictly to capitalize on the unquenchable thirst for children's theater. I don't think
Alice
has ever enjoyed a truly successful stage adaptation anywhere anytime, but that hasn't stopped people from trying. At least this new adaptation has some catchy songs from the cartoon ("I'm late, I'm late, for a very important date"). And at 55 minutes, it's 20 minutes shorter than the film on which it is based -- which can only be a plus.
Alice
opens August 5 and runs daily (except Monday) at 11 a.m. through August 16.
While their younger brothers and sisters are trying to make sense of the White Rabbit and the Mad Hatter, teenagers will surely gravitate to Forest Park for the final production of the
Muny
season. Like
Alice
, the cross-dressing
Hairspray
is possessed of a somewhat surreal quality. No surprise there, seeing as how the source material is a slightly seditious film by John Waters. The show, which is making its Muny debut, takes us back to 1962, which is now viewed with nostalgia as the last year of innocence before President Kennedy's assassination in 1963 turned that innocence helter skelter. It probably wasn't all that innocent (what year ever was?), but -- like
Dirty Dancing
and
The Flamingo Kid
, which both play out in the summer of 1963 -- the summer of '62 provides a pristine backdrop for "coming of age" stories. The Muny production promises to restage Jerry Mitchell's frenetic choreography, which is always a pleasure to see.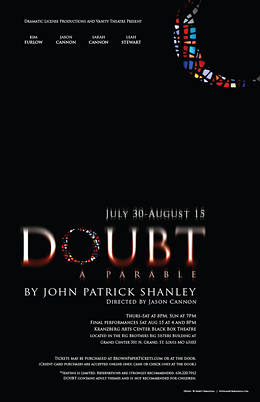 www.dramaticlicenseproductions.com
And for adults? John Patrick Shanley's 2005 Pulitzer Prize and Tony Award-winning play
Doubt
is the inaugural co-venture of a new theater company,
Dramatic License Productions
. The fledgling group was started by Kim Furlow, who plays the key role of Sister Aloysius, a fussy parochial-school principal who suspects that one of her teachers, Father Flynn, is taking advantage of his position to exploit one of the male students. In addition to portraying Father Flynn, Jason Cannon directs this production. Nothing is overly explicit here; when done properly
Doubt
delivers an evening of high-charged theater fraught with mystery.
Dramatic License is the latest company to find a home at the new
Kranzberg Arts Center
on North Grand Boulevard. It is a simple space, to be sure. But in the eleven months since the Kranzberg opened, it has become an integral part of the local theater scene. It is clean; it is comfortable; it is appreciated.