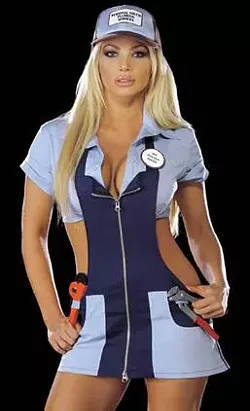 www.yandy.com
Plumber costumes available online can be used for good or bad.
Have you heard about the guy posing as a Laclede Gas employee?
Since July 22 the con has preyed on at least five elderly residents living in the state streets of south St. Louis. According to police, the suspect (
description here
) gains entry into the homes by pretending to be a Laclede Gas repairman and then demands cash from the victims and/or steals their purses.
Thankfully, no one has been seriously hurt by the ruse, and this week Laclede Gas put up a
$5,000 reward
that will hopefully lead to the suspect's arrest.
In the meantime, am I the only one wondering what
exactly
the thief says when he knocks on the door? And, is it wrong for me to wish that he's using that classic porno line?
You know, the one where a guy dressed as a plumber shows up at the door to tell the scantily clad homeowner that he's there to "lay some pipe"?
And do you think the faux gas employee could spawn copycat criminals? Perhaps, a thief posing as a restaurant delivery man?
Ding. Dong.
"Hello? Did you order a pizza? Extra sausage?"