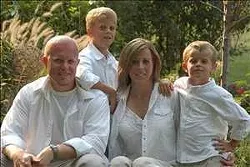 Christopher Coleman with his wife, Sheri, and sons Garett and Gavin.
More details of accused killer Christopher Coleman's private life are emerging with the
release of his employment records
with Joyce Meyer Ministries.
Last week the Fenton-based ministries handed over more than 400 pages of documents to attorneys representing the family of Sheri Coleman in a wrongful death lawsuit against her former husband. Coleman is accused of
strangling to death Sheri and the couple's two children
in their Columbia, Illinois, home during the early morning hours of May 5.
The employment documents reveal that Coleman told Joyce Meyer Minisitries that he worked for the U.S. Secret Service protecting former President Bill Clinton and other heads of state. His 2000 application for the job also stated that he became a born-again Christian in 1986 and began speaking in tongues some two years later.
Coleman earned $100,000 a year heading up security for the Fenton-based ministries, and a day following his family's death asked for -- and received -- a $10,000 advance.
Coleman was forced to resign from the job a week later when it was revealed that he was
carrying on an affair
with a Florida woman who went to high school with his wife. The Joyce Meyer Ministries has a strict "thou shall not fool around on your spouse" (or something like that) covenant with all its employees.