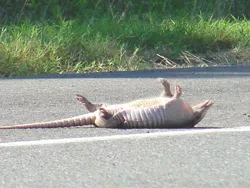 An armadillo in its natural state.
Perhaps it's just a slow news day in the southwestern Illinois town of Shiloh.
Or perhaps what occurred there this morning will be remembered centuries later as the tipping point of man's impact on planet Earth.
If it's the latter, it will be well documented. That's because Shiloh Mayor
Jim Vernier
reported today to the local paper of record --
The Belleville News-Democrat
-- that an armadillo was struck and killed on Main Street.
Many people believe global warming is responsible for the recent
migration of armadillo
northward from states such as Texas. And while today's killing is not the first armadillo sighting in Illinois, it still qualifies as news -- at least to the mayor.
Vernier tells the
News-Democrat
that the animal's carcass was taken to the town's Public Works Department, where it was photographed and placed in a freezer.
You know, for safekeeping.