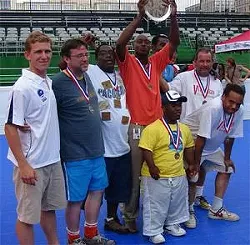 The Roadies display their "Fair Play Award" at last year's Homeless USA Cup.
Last year we told you about the
St. Louis Roadies
, a soccer team headed by
Keith Deisner
, director of development at
Peter & Paul Community Services
in Soulard.
For the most part, The Roadies look like a run-of-the-mill group of recreational soccer players. But one thing makes them different. All the players on the team are homeless.
Last July the team traveled to Washington D.C. to participate in the
Homeless USA Cup
where they took third place in the beginners' division and captured the Fair Play Award Fair for ''showing the best in human spirit and embodying what the tournament is all about.''
Now the team is
set to depart
for its second trip to the tournament. They'll leave this week for Washington where they hope to improve on last year's mark.