Thanks to a Jim Edmonds-worthy
catch in the ninth
inning by White Sox centerfielder DeWayne Wise, St. Charles native (and Francis Howell North High School-alum) Mark Buehrle pitched the 18th perfect game in Major League Baseball history yesterday afternoon.
Now Buehrle is basking in the glory of perfection and receiving
congratulatory phone calls
from Sox-loving President Obama. What he really needs to celebrate, though, is a parade through the streets of his hometown in his
monstrous
custom Ford truck.
Behold the beast:
deadspin.com
"Mark Buehrle's truck will cause ice caps to melt"


According to the site that first
unearthed the pics
of Buehrle's monster, the truck is a "2007 Ford F-650 Dominator." It weighs over six tons and stands ten feet tall, though hydraulics have been added so the bed can be lowered to the ground. Remarked Buehrle upon first seeing his new toy "Oh [bleep] that thing's a lot bigger than I expected."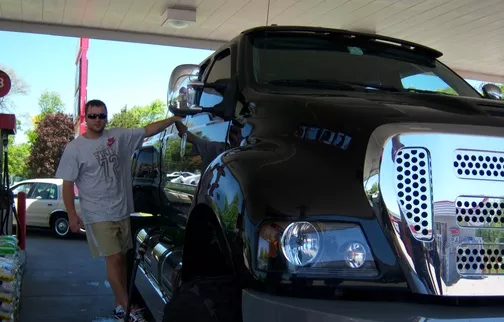 deadspin.com
Somewhere, Optimus Prime is shaking in his steel-belted radials.
Spoken like a true St. Chuck boy.