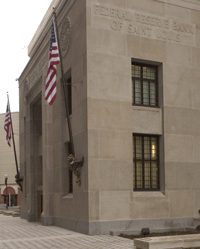 When did it all begin? This financial mess we're in? And what were the major events that have defined it?
A new
timeline feature
available on the website of the
Federal Reserve Bank of St. Louis
helps answer that.
The voyage begins in late February 2007 when
Freddie Mac announces
that it will no longer buy risky subprime mortgages. A month later one of the biggest lenders of subprime mortgages, New Century Financial Corporation,
files for bankruptcy
.
What follows is collapse after collapse of major financial institutions that bet heavily on subprime loans and other mortgage backed securities. A hemorrhaging
Bear Stearns is gobbled up by a rival bank
.
Countrywide sells out
to Bank of America. And Lehman Brothers files for
Chapter 11 protection
.
It's not pleasant reading for sure. But the Fed's use of primary documents and easy explanations help make sense of our current situation.
Now, if only the Fed could have seen this economic collapse coming say five years ago and prevented it from happening. That would have been something, too.