Note:
Daily RFT
tech blogger Bill Streeter offers an addendum to our
earlier post
this morning about stltoday.com's Comment section.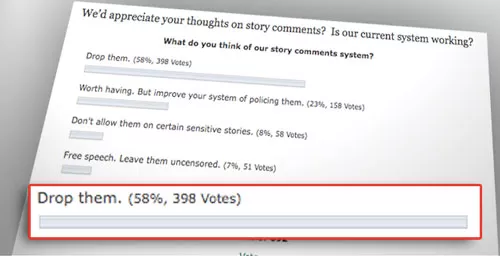 Stltoday.com poll shows that the majority of its readers don't like their own comments.
You've likely heard by now that the
Post-Dispatch
last week polled its readership to find out what the paper should do about the comments on their site stltoday.com.
My first observation: Um, what took them so long? It's been
observed
and
discussed
widely that often the comment sections after every story on the site has devolved into a racist, abusive, off color, and generally unpleasant cesspool.
Now, I'm not anti-comments, I'm not even anti-comment on news items. I think that comments can be as informative as the article and getting people talking about the news keeps them interested in the news. The problem, it seems to me, is the way the Post has sort of done a half-ass job of policing comments. And I don't mean that they need to hire more people to moderate.
Curiously there is someone at the Post who has a clue about how to manage comments,
Kurt Greenbaum
is the paper's director of social media who has
written quite a bit
about the topic of commenting. Yet for some reason the Post hasn't implemented even half his ideas.
One example he mentions on his blog
here
is a comment ranking system like
Digg
where readers can bury comments that are offensive and irrelevant. But I'm guessing the problem with this idea is that it would require money for programmers or software that the Post would rather spend on developing new ways to annoy their readers with obtrusive advertising that often makes their site unreadable.
Or maybe comments on STLToday.com are a lost cause. If they can't do comments right maybe they shouldn't do them at all. Or maybe there is a deeper problem here. Maybe the stltoday.com comment section is a window into our city that we don't want to see and don't want to admit exists.