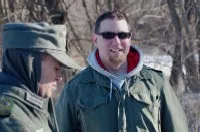 Chris Grega during the filming of Rhineland.
Writer/director Chris Grega did the crime/comedy route with
Amphetamine
, his feature film about four hitmen out to burn their boss. He followed that up with
Rhineland
, a full-on WWII flick that explored the horror of war.
So of course, the only topic darker than crime or war is the subject of his new feature: reality TV. What nightmares does Grega uncover in his mockumentary about a group of St. Louisans competing to be on Game of the Year? Find out tonight.