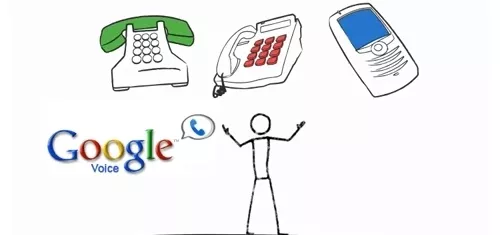 I finally got my Google Voice invite last week. Voice is Google's move into what has traditionally been the domain of the big telephone companies. The service is still in private beta, which means that you have to get an invite to try it out. It's very likely Google will roll out voice in a similar way they did with Gmail by allowing existing users to send out a few invites to their friends. But for now, the only way to try it is via direct invite from Google, which you can request at the
Google Voice web site
.
Google Voice promises to provide you with a single number that becomes your hub for all your voice communications. This gives you at least three big advantages over traditional telephone services. Voice mail management and transcription, customizable call forwarding, and text message handling. It actually does more than that, but those are the biggies. Right now it's mostly web based (via an interface that looks a lot like Gmail) unless you have a phone that runs Google's Android OS, where there is an app that makes using it from your cell phone a pretty seamless experience. There is also an iPhone app called GV Mobile which I haven't tested yet but here is a video demo of it:
I HATE voice mail. If you get a lot of messages sitting down and listening to them can quickly become very bothersome. There are the people who drone on and on leaving very detailed messages that probably would have been better sent via email. And there are the people who just call to say to call them back, which is totally unnecessary because I can see that I missed a call and know who it is by looking at the caller ID history.
I really would prefer to get a text message over a voice mail. Google Voice actually makes voice mail bearable, not just by allowing you to listen and archive your messages on the Web, but also by transcribing your messages, so you don't even have to listen to them. A huge improvement over the current state of the voice mail. Because not only does your caller get to leave a message in their preferred way, but you get to read it if you can't stand to listen to long messages. How accurate is the transcription? In my experimentation with it, its pretty darn good. Though, it's not instantaneous, the transcription usually comes a few minutes after the message is recorded.
Advanced call forwarding was the primary feature of Grand Central the service that Google purchased last year that became Google Voice. The idea behind it is that you have a single phone number that you give out to everyone, and Voice will route the calls accordingly, based on the way you set up your contacts. For instance most people have at least three different numbers where they can be reached, work, home and cell. Google voice lets you decide which of your contacts get routed to which phone. You can even schedule the times at which certain contacts can reach you, and have them routed to voice mail the rest of the time. Or you can have contacts that are always routed to voice mail. Now the obvious problem with this is that if you have a long contact list sorting who gets to call you where could be a big pain. Google tries to make this easier for you by allowing you to sort your contacts into groups, which is better, but if you have a lot of contacts could still be a daunting task.
Google Voice improves text messaging in a few ways. You can send free text messages via the web, and it archives and organizes them in order under the contact's name kinda like a chat transcript. Now to iPhone users this isn't anything new, thats pretty much the way it works already. But it is nice to have your messages archived on the web so you can clean out your phone once in a while without having to worry about deleting important information.
And that's the other big advantage of Google Voice. Search. If your voice messages are archived in the same system as your text messages, so say searching for that little bit of important information your boss left in a message three months ago becomes pretty trivial.
Now Google would like to have you think that this great service is free, because they won't be charging you for any of it (with the exception of over seas phone calls). But thats not exactly true. Because, while the trade isn't monetary, you are trading your information. Information that Google will use to deliver targeted ads to you. Some people might not mind this so much, while others will get a little creeped out by the big brother aspect of Google knowing pretty much everything there is to know about you. But hey, welcome to Google's brave new world.