Earlier this morning, eight campers, age nine to twelve, and their two counselors, Washington University students, crouched around a potato bed in the university's student garden,
the Burning Kumquat
.
"OK, who here can tell us how long it takes for a potato to grow?" asks counselor Katie Anderson, whose garden name is Chestnut. (More on that in a minute.)
"A hundred days!" shouts the camper who researched the subject yesterday.
Chestnut's co-counselor, Dragonfly, known in the outside world as Jen Swanson, beats a drum as the campers pretend to be potatoes. First they grow, slowly, over 100 days. Then they get picked. Then they get transported from Idaho to Atlanta (running around the potato bed), where they are chopped, frozen and then deep-fried, chewed and swallowed, amid much yelping.
Because this is so much fun, they will do the same for lettuce (ending up in a Big Mac) and carrots (a Wendy's salad).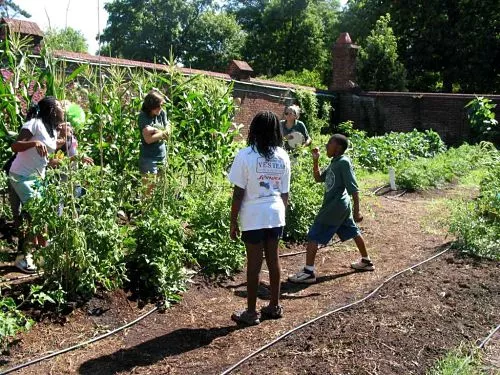 Camp Kumquat simulates the terrible experience of being a chopped carrot.
Welcome to
Camp Kumquat
. This is the first part of today's lesson: fast food. After lunch, Molly Rockamann, a founder of
EarthDance
, a local community farm, will talk to the campers about slow food.
"At Camp Kumquat, we're reconnecting with the source of our food," Swanson explains. Over the course of a four-week session, the eight campers will tend and harvest vegetables from the Burning Kumquat and sell the produce at the
North City Farmers' Market
. They will also, through games and activities, learn more about where their food comes from.
"A lot of them are totally new to gardening," says Anderson. "A lot of them didn't realize food came from the earth."
Anderson and Swanson will both be seniors at Wash. U. in the fall. Last year, each spent a semester studying abroad at a sustainable eco-village community, Anderson in
India
and Swanson in
Scotland
. The eco-villages are self-sustaining communities, almost like communes, except members don't have to share their incomes.
"We both came back with the same idea, to start an urban garden camp," Swanson says. "We started planning in January and the camp started in June." They are now a week into the second session.
Camp Kumquat's founders and counselors, Dragonfly (left) and Chestnut.
The two counselors spent last semester volunteering as garden specialists at the City Academy to get ideas for Camp Kumquat's curriculum, which they devised themselves.
On the first day of camp, each camper chooses a "garden name". "Inside the garden," Swanson says with a touch of embarrassment, "you can be anyone you want to be."
"It's experiential education," Anderson explains. "They interview people, plan city blocks, do presentations, do hands-on gardening. They love turning the compost. They love building. They love doing art projects. They love preparing food." Yesterday the campers spent the afternoon doing an Iron Chef-style competition with produce from the garden.
Campers Logan Spicer and Summer.
"I like sitting here and relaxing," says Summer, who is resting at a picnic table with two friends, one of whom, Logan Spicer ("I'm spicy!"), is sporting a green wig from the camp's costume stash in Umrath Hall, also known as the Mansion. "It
suits
me," he declares. "Doesn't it?"
Burning Earth prefers city planning. "We're building a city block," he says. "We decided how the land is going to be used. There were parking lots and we switched them out with gardens."
"My favorite thing to do is harvest different vegetables," says Corn, who is watering a tomato patch. "We made a net for the beans to climb up." Corn named herself after her favorite vegetable. Does the corn from the garden taste any different from what she eats at home? "It tastes the same to me."