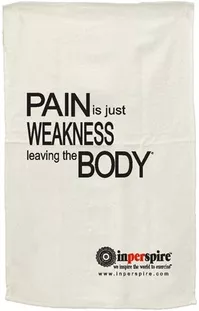 A few weeks after we
interviewed
Darla Dale, one of the founders of
Inperspire Motivational Fitness Towels
, a lovely little package came across our desk. Inside, beautifully wrapped in tissue paper, was an Inperspire towel for our very own, plus a coupon for 20 percent off our next order for Inperspire.
Now, we love our towel. It is soft and white and emblazoned with the slogan "Sudo, ergo sum. I sweat, therefore I am" and a drawing of Rodin's
The Thinker
. (Unreal, you may have noticed, is the philosophical type.) We haven't sweated into it yet -- so far we've only used it as a scarf to ward off hypothermia brought on by the hyperactive air-conditioning at our desk -- but we love our towel and you will have to pry it from our cold, dead hand.
But we also want to share the Inperspire love. So if you would like the 20 percent off coupon, please send a picture of your t-shirt pit stains to
unreal@riverfronttimes.com
. No smelly t-shirts, please. A picture can say a thousand words about how badly you need a new towel.