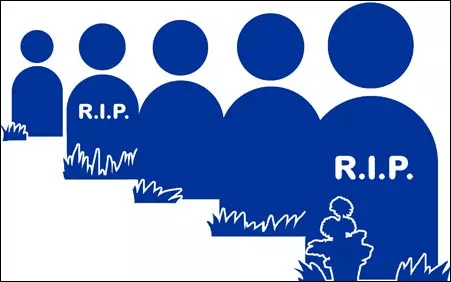 Even with fewer and fewer people using it, MySpace is still a behemoth. The social media company has over 125 million users and is still clocking about 70 million page views a month. Revenue averages $250 million a year.
But none of this really means anything without some context, and
the announcement last month
that the Newscorp-owned site would lay off 30 percent of its workforce might have given a clue as to which direction things are headed. That's because even at $250 million in annual revenue (five times that of its closest rival, Facebook) MySpace is still losing money. And anyone who uses the Internet on a regular basis can tell you that most people just don't use MySpace that much anymore. Those 125 million MySpace users are pretty much the same ones it had six months ago, and Facebook is kicking its butt with a user base of 250 million.
Yep, it's becoming clearer every day that Rupert Murdoch's Newscorp bought a dog when it picked up the Myspace for $850 million in 2005.
Now Murdoch didn't become a billionaire by buying media that loses money. So he must have plan for turning the "Place For Friends" around, right? Of course he does. The visionary, 70-year-old media mogul dropped some hints at an annual meeting of media and technology executives in Sun Valley, Idaho. The Wall Street Journal (also owned by Murdoch)
reported
that Murdoch (in his best 1990s Internet speak) believes people need an online "Entertainment Portal" to find entertainment and related information.
Umm, thanks Rupert. There isn't any place like that now on the Internets! (Obviously he has almost no clue what is going on with MySpace other than it's losing money.)
Recently, though, there has been a shakeup at Myspace with the company hiring Owen Van Natta, a former executive at Facebook. TechChrunch
published an email to the company
from Van Natta that offers a few clues as to how he plans to change MySpace into an "Entertainment Portal" that more people will want to use.
MySpace should feel like one platform - not 15 sites loosely stitched together. We consider our diverse content offering a strength but too many logos and disorganized verticals makes the site difficult to navigate and creates confusion about our brand identity. Our users don't know if we're a social portal, a music site, or an entertainment hub. In the last week, we've made some small but meaningful site changes that will lay the groundwork to provide more clarity on our brand and business.

Good observations. I guess that's why he makes the big bucks. By the way, as near as anyone can tell, the only small meaningful change at MySpace recently is that they dropped ".com" from the logo and they are no longer calling themselves "a place for friends."
So is MySpace dead? It's kinda hard to tell. Newscorp is obviously trying to keep it alive. But for a lot of MySpace users, the site died a long time ago.
Meanwhile, what is Myspace planning to do about abominations like these?