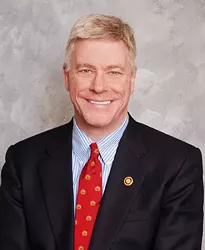 Lt. Gov. Peter Kinder don't take no questions.
Republican Lieutenant Governor
Peter Kinder
loves cycling so much and now he's glad that Democratic Governor
Jay Nixon
does, too. At least that's the way Kinder put it Tuesday during a phone meeting with reporters.
In a conference call Tuesday afternoon, Missouri's second-in-command gave a back-handed compliment to Nixon, whose administration froze on Wednesday funding for the bicycle race, which begins on September 7 in St. Louis and ends on September 13 in Kansas City. That funding freeze
put this year's race in jeopardy
.
"I am especially delighted to be able to welcome Governor Jay Nixon to the ranks of supporters of this race," Kinder said via phone from Kansas City.
(Kinder did not take questions during the conference call.)
As you'd expect, Nixon's office had a different take.
The governor's office released a
statement
earlier on Tuesday explaining its reasoning for freezing the $1.5 million last week.
The reason why Nixon's administration held back the funding, according the statement, was because the Division of Tourism -- which is chaired by Kinder -- and the Tour of Missouri, Inc., did not provide records of spending for the past two years' races, in 2007 and 2008.
"Because of assurances... that they are now willing to share records regarding spending on previous races and planned spending for this year's race, the Office of Budget and Planning will immediately begin to provide state funds for the 2009 Tour of Missouri," reads a statement issued by Nixon's office.