It wasn't inside the stadium, where beers cost $8.75 and tickets $200 and up (though at least one scalper downtown was selling for $100).
(View slide show here.)
No, the real party was on Walnut Street right outside the left-field gates to Busch Stadium. Several hundred people were packed in between "Ballpark Village" and the stadium, watching the action on the Jumbotron, roaring every time they caught a glimpse of a long home-run ball soaring into the stands, and chanting "Let's go Albert" whenever the hometown slugger took a turn.
Almost all of Walnut street was crowded with this many people
When Pujols stepped up to bat the end of the first round, the atmosphere was electric and the excitement palpable. When he was down to his final two outs and looking like he wouldn't advance in the contest, there was a collective sinking feeling. One drunk guy with two gold front teeth, standing on a cooler of Budweiser cans, started taking $100 bets that Pujols wouldn't make the cut. Everyone breathed a deep sigh of relief moments later when El Hombre evened things up with a few quick swings of the bat. One guy, sipping a can of Stag, was heard to say (seriously) "This will be the greatest moment of our lives."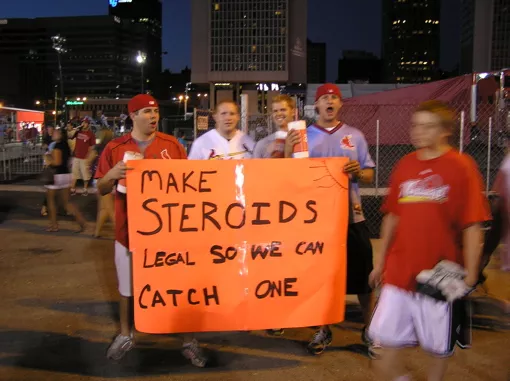 Unfortunately for these guys, no balls left the yard.
With the booze flowing as it was (like it's been all weekend, the many, many St. Louis police patrolling the streets turned the other cheek toward open containers), it almost felt like a music festival or Mardi Gras. Streetside, there were official Budweiser vendors peddling 16 oz plastic bottles for $8.75, but it seemed like virtually everyone brought their own coolers.
In the thick of the crowd, one ballsy (or stupid, perhaps) group was passing around a joint and sipping from what appeared to be a Crown Royal bottle. Then they started offering swigs to anyone in their vicinity, asking "Who wants the Jack?" When one dude in a Pujols shirt was informed that they were actually slightly classier than that and drinking Crown, he replied "No, trust me, it's Jack. I couldn't find my flask this morning so I poured it into this bottle."
Asked if he came down just to see Pujols hit, the aforementioned life of the party, who said his name was Kenny, replied "No man. I'm from St. Louis this is as good as it gets."
Nearby, a guy in a Giants hat named Tim (not Lincecum though, he was inside) compared the scene to his hometown ballpark in San Francisco saying: "I feel like I'm in
McCovey Cove
in a kayak right now."
But perhaps the best illustration the crazy/fun/silly/bizarre the setting really was is that the pope was there. Well, it was a black guy dressed up like the pontiff, complete with a high-peaked cardinal hat, Mardi Gras beads, batting gloves and a scepter.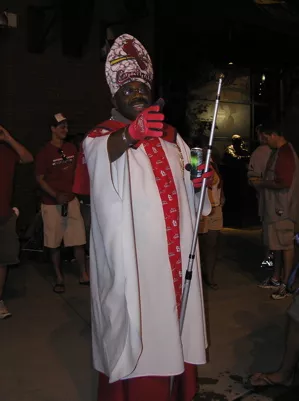 Is he a cardinal or a pope? He's the cardinal pope.