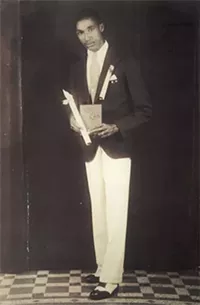 The
New York Times
wrote yesterday
about
Lloyd Gaines
, the St. Louis civil-rights pioneered who disappeared mysteriously 70 years ago.
The
Times
story, published as the NAACP's Centennial Celebration gets underway this week in New York, was something of an abbreviated version of a similar tale told in the
Riverfront Times
a couple years back.
In December 1938 Gaines won a Supreme Court decision to enroll in the University of Missouri Law School. A few months later, Gaines' NACCP attorneys were preparing to defend an appeal from the state legislature when they discovered their client missing.
No trace of his body or disappearance has ever been recovered.
Yesterday the
Times
quoted one of Gaines' descendants, Tracy Berry (an assistant U.S. attorney in St. Louis) as saying she believes her great uncle was murdered.
Berry provided similar thoughts to
Riverfront Times
in 2007. Not mentioned in the
Times
article, though, are theories that Gaines' fled to Mexico to escape threats and the public spotlight.
You can read that speculation
here
.