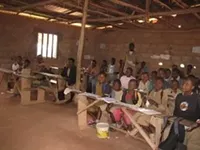 Wendy Lee, roundtwocameroon.blogspot.com
Students at École Catholique of Batié, Cameroon.
Wendy Lee, 22, left St. Charles last year for a Peace Corps assignment in Cameroon in West Africa. Cameroon is a bilingual country -- English and French -- but, Lee noticed, its schools lack books in either language.
She hopes to remedy this problem with her new project,
Books for Cameroon
, which will provide libraries in 28 schools throughout the country to serve 20,000 students.
Working with the organization
Books for Africa
, Lee has arranged for 22,000 English-language books to be shipped to Cameroon early next year. But, as anybody who has ever ordered from Amazon knows, it costs money to ship books, in the case of Books for Cameroon, $11,500. (Instead of cardboard coffins, the books will arrive in a 40-foot shipping container.)
This is where you come in.
"I recognized the need for books when I taught English during the early months of my service," Lee writes in a press release. "Kids in my classes did not know how to read. They were not even able to follow along with the words as I read them."
roundtwocameroon.blogspot.com
Lee
Libraries are rare in Cameroon's schools. The Research Institute for Development (RIDEV), a Cameroonian organization, has pledged to contribute $8,050 toward setting up libraries across the country and training librarians to keep the project going after Lee's Peace Corps hitch is up next summer. (A full
breakdown of costs
appears on Lee's blog,
Round II: Cameroon
.)
Now all they need is the books.
So far, according to the official Peace Corps project site, Lee has raised $485. She needs the balance by November in order to arrange for a December shipment.
"It takes 2,300 people to donate their next $5 latte/beer/burger to make it happen!" Lee writes on her blog.
If you'd like to give your next latte, beer or burger to Cameroon (and all donations are, Lee notes, 100 percent tax deductible), you can donate on the project's website, then follow its progress on
Facebook
,
Twitter
or Lee's blog (which also has cheerful anecdotes life as a Peace Corps volunteer, including coping with the glacial pace of African bureaucracy).
Once the English books are all shelved, Books for Cameroon will work with Aide à l'Équipement Scolaire et Culturel, a French organization, to get French-language books over there as well.