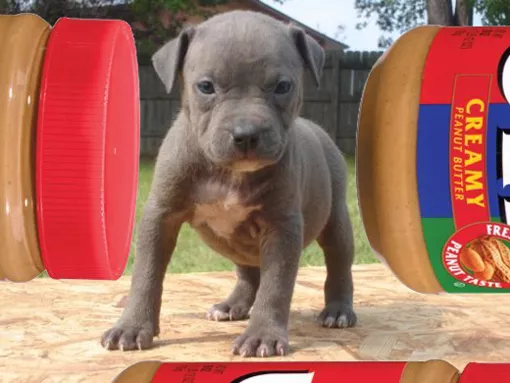 Any of you animal-lovers heading down yonder to downtown to the
All-Star hoopla
this weekend might consider bringing along a tub or two of
creamy peanut butter
.
You know those
378 pit bulls taken into custody
by the Humane Society of Missouri following Wednesday's
bust
of allegedly the biggest dog-fighting ring in U.S. history?
Well,
that's 378 pit bulls who could really get busy with some creamy peanut butter
.
Apparently pit bulls dig licking peanut butter out of jars and large toys. It takes a long time. It keeps them occupied. That way they don't bite or fight. (Is it just me, or does owning a pit bull sound really messy?)
So Purina and the St. Louis Petlover Coalition, which were already sponsoring an event this Saturday, 11 a.m. - 3 p.m. at 700 Market Street, are now hoping good Samaritans will help the rescued pit bulls by dropping off any of the following:
large box fans; sheets; full-size towels; blankets; shredded paper; newspaper; sturdy dog toys, and of course a can or two of PB. Make sure it's creamy.


Don't believe me? See for yourself.